Web3 ATL Recap
2022-12-15
By: Pruitt Martin
Web3 ATL was the first large scale web3 conference in Atlanta. 404 DAO worked to create and deliver the premier blockchain conference in Atlanta to educate, connect, and onboard people into web3
Wednesday, October 26th
Hackathon Kickoff at KITT Labs
Students found teams via in-person networking and kicked off the hackathon as Manny described each problem set. Afterward, Robert from Solidity ATL and KittLabs gave a workshop showcasing how Forta can be used to parse events and transactions on the blockchain for incident response.
Thursday, November 3rd
Web3 ATL Opening Party Hosted by Atlanta Blockchain Center
We kicked off the week with a mixer at Crazy ATLanta, hosted by the Atlanta Blockchain Center.
Hors D'oeuvres and drinks were served, speakers connected, and attendees in town early got to network and hang out!
Friday, November 4th
Web3 ATL Launch Party - Sponsored by OpenZeppelin
Attendees checked in to collect their wristbands for the weekend's festivities while enjoying an Atlanta staple, Antico's pizza. It was a busy night, with over 150 students and professionals enjoying the launch party. Afterward, Matt Wyatt, co-founder of Nucleo, presented the differences between the web2 and web3 tech stacks. This workshop helped further prepare students new to web3 for the hackathon problem tracks.
Web3 ATL After Dark - Powered by Chainlink
Sliders, drinks, and networking! After our kickoff party, Chainlink hosted a mixer at 5Church in Midtown. Guests jammed to music and discovered the vibrant Colony Square in Midtown Atlanta.
Saturday, November 5th
DAY ONE of the Web3 ATL Conference
Check-in started early, and the swag bag preparation started even earlier!
Nothing like fresh hot coffee to start an early morning at a conference. Guests grabbed their swag bags and made their way to the Main Stage for the day's first panel.
On day 1, guests got to hear from over 17 presentations/panels and participate in the first day of the in-person portion of the hackathon. Networking could be heard throughout the halls of the venue, with attendees, speakers, and sponsors all discussing the future of Web3. This is a recipe for a great first day.
Talks included topics ranging from, Blockchain applications in HealthCare, Ethereum Scaling, Sustainable DeFi, and the Metaverse.
Web3 ATL After Party - Sponsored by Revest Finance and Heirloom
The weather made for a crisp November night atop the Coda rooftop. With drinks flowing and music bumping, Web3 ATL participants enjoyed the iconic Atlanta skyline for a night of good vibes and great networking thanks to sponsors Revest Finance and Heirloom.
Sunday, November 6th
DAY TWO of the Web3 ATL Conference
Day 2 of Web3 ATL kicked off the next morning as guests got to hear from 20 more presentations/panels with talks ranging from Web3 Gaming to the landscape of Web3 Venture Capital. With the strong foundations of day 1, attendees were able to tackle deeper talks that featured zero-knowledge technology and decentralized science. Hackers added final touches to their projects and the first annual Web3 ATL wrapped up with Atlanta feeling a newfound energy for Web3 solutions.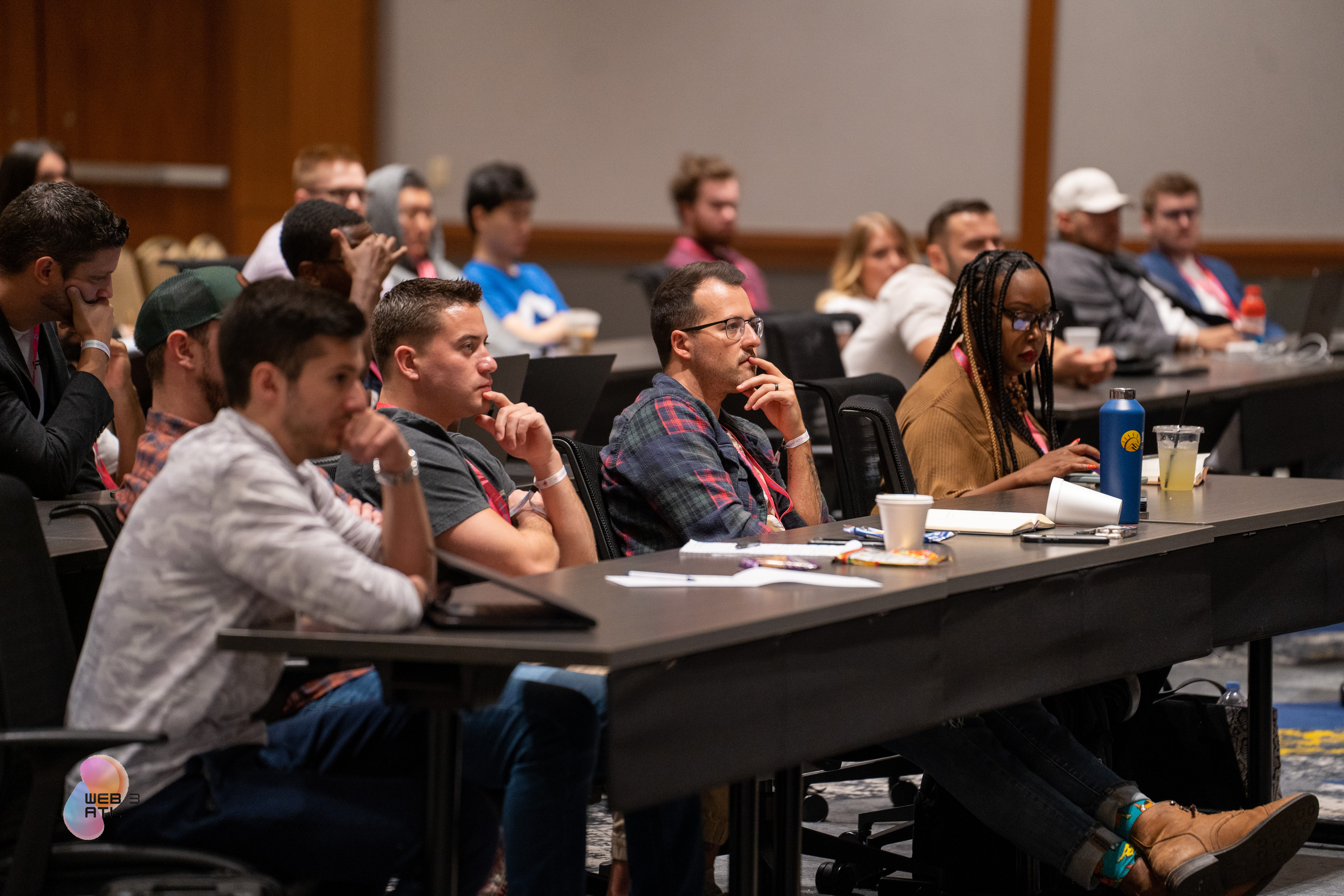 Quick Hits: The first annual Web3 ATL conference was a huge success with over 500 total participants. The hackathon featured a prize pool of $10,000 with a total of 17 project submissions. Students from over 10 Universities showed out to represent their respective blockchain organizations. Over 15 local and crypto-native sponsors contributed to make the entire week of events possible.